MEDICAL DEVICES
Collection and Infusion Systems: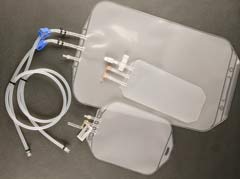 The range of applications that Haemologic can meet include;
IV Infusion Bags:
A wide range of bags, shapes, configurations and materials allows Haemologic Biotech to design and manufacture IV bags for applications including;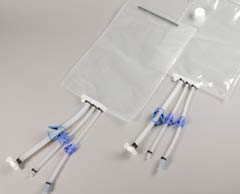 Blood & Plasma Bags
IV Solution Bags
Pharmaceutical IV Infusion Bags
Infusion Disposables
Ventricular Drainage Systems
Parenteral Nutrition.
Drug admixture bags
UV, Oxygen and Carbon Dioxide sensitive solutions.
Blood & Plasma Collection and Storage Systems.
Haemologic uses the latest co-extruded materials for the collection, storage and freezing of Plasma and other biologicals requiring low temperature, low gas transmission properties.
Platelet collection and storage bags designed for the unique requirements of platelets using single layer Ethylene Vinyl Acetate.

Drainage and Collection bags: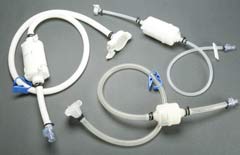 Haemologic Biotech can manufacture and supply collections bags ranging in size from 1L to 2,500L to meet a variety of applications from Haemodialysis and CAPD through to Ventricular Drainage and Blood Warming.
Tube Sets:
What ever the application Haemologic can offer Infusion, Transfer or Connection systems to meet your requirements.